The feelings in the student days were the simplest. At that time, liking someone was also a very pure thing.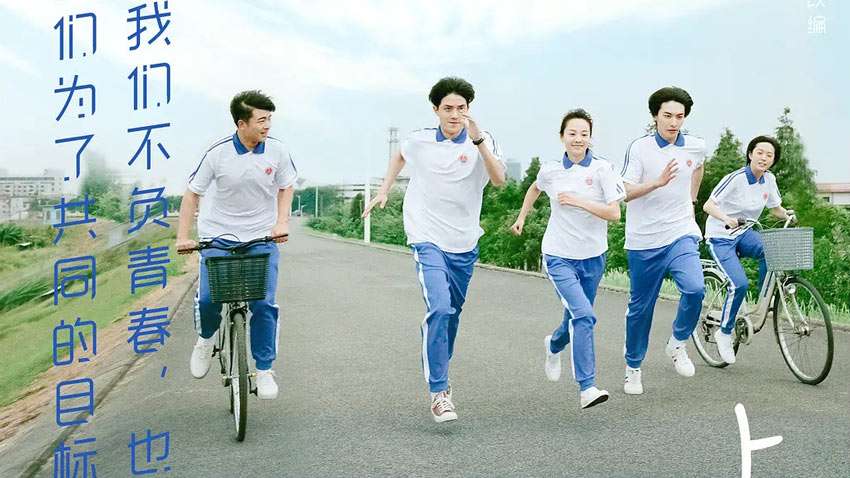 The Chinese drama A River Runs Through It is a youth drama about growing up in a crush. It tells the lives of a group of teenagers from the tense senior years of high school to the wonderful time in college, full of sweet and sour crushes and healing growth.
There are many stupid plots in the story of the hero Lu Shiyi (played by Wang Ruichang) and the heroine Xia Xiaoju (played by Hu Yixuan). The youthful story at a joyful pace is a delightful watch (or possibly a helpless complaint).
A River Runs Through It is a different youth school drama, which depicts the crush very realistically, painfully, and beautifully!
Chinese Drama A River Runs Through It Review
Crush
The plot is set in the senior year of high school, which as we all know is an important stage, the final push, so studying and exams become the focus. Academic performance is the measure of everything related to study, which is also the norm in real life in the senior year.
The hero and heroine are set up as "a quarrelsome and loving couple", a common characterization in many youth school dramas.
From the very first episode, the laughs have already begun. The timid heroine Xia Xiaoju, who is afraid of setting off firecrackers but wants to try, throws the burning firecrackers at the hero, Lu Shiyi, blowing up his ass. Before that, Lu Shiyi was laughing at Xia Xiaoju's timidity.
After the start of the school year, the two are in the same class. Xia Xiaoju, who has just received a cup of hot water, is touched by a classmate in the corridor, and the hot water is directly poured into the body of Lu Shiyi. A series of accidents makes Lu Shiyi remember this reckless girl, and the story between the two seems to be ludicrous.
Xia Xiaoju changes schools in her senior year and goes to the best high school in the city, but she couldn't keep up with the progress. Accidents happened frequently, she is almost dismissed by the school. But luckily the male second Cheng Lang appears in time, and helps her with her studies! To Xia Xiaoju, Cheng Lang is really an angelic existence! Therefore, she gradually falls in love with Cheng Lang and has a crush on him!
Everyone has one or several good friends who want to go to the same university when they are students. At that time, the relationship is so simple, and the words that last forever can always be said easily, but they don't know that there are many uncertainties waiting for them in the future.
On the way to the examination room, Cheng Lang accidentally encounters a car accident. Due to the impact of his father's death accident, he decides to give up the college entrance examination to save others.
Of course, there are coincidences everywhere in TV dramas, just like there are many dramatic moments in life.
Cheng Lang goes to the same university as Xia Xiaoju, Jiangzhou University, precisely because he fails the exam, while Lu Shiyi chooses the medical school of Jiangzhou University when he could choose the Department of Architecture of Tsinghua University.
Embarrassing Confession
Until they go to the same university, Xia Xiaoju is still afraid to confess her love. Every time her best friend Taozi helps her think of ways to match them up, she is too timid, not sure if Cheng Lang likes her.
Cheng Lang is indeed excellent, a top student, and a warm-hearted man, many girls in school hand over love letters to confess their love.
Lu Shiyi and Cheng Lang are on the same basketball team, playing against other schools on behalf of Jiangzhou University.
And Xia Xiaoju chose to confess her love after the game.
Xia Xiaoju stays up all night and folds a big jar of stars to give to Cheng Lang, but she doesn't dare to give it away when Cheng Lang is tutoring her in high math, so she goes to the practice locker room to put it in his locker, which is actually Lu Shiyi's locker.
Lu Shiyi mistakenly thinks that Xia Xiaoju likes him, and is very happy for a long time.
What's even funnier is that after the game, Xia Xiaoju rushes into the locker room and hugs Lu Shiyi (mistaking him for Cheng Lang), and keeps confessing her love, hahaha, but she rushes out and bumps into Cheng Lang, and then she gets the biggest one second, haha ...
As a result, Lu Zhiyi still doesn't know that Xia Xiaoju confessed to the wrong person...
The next day, Xia Xiaoju asks him out.
Lu Shiyi also especially dresses up and takes Xia Xiaoju to eat steak. During the meal, Xia Xiaoju says that she was playing a dare, so he wouldn't misunderstand...
Then Lu Shiyi gets jealous and pissed off, hahaha.
Xia Xiaoju plays that kind of pure liking and heartbeat very well, even a little silly.
Who hasn't had a crush on someone in school? Still such an excellent boy.
Lu Shiyi is so loquacious, and he always likes to taunt Xia Xiaoju. Although he also has many warm actions, to Xia Xiaoju he is a bad company.
However, Lu Shiyi has an obvious preference for Xia Xiaoju, there are too many details.
It's a pity that Xia Xiaoju only has Cheng Lang in her eyes, and when she sees him, her eyes light up, she is purely a hopeless romantic.
Although Cheng Lang is a good man who always warms Xia Xiaoju, he treats everyone very well.
And Lu Shiyi only loves and warms Xia Xiaoju alone, caring and paying attention to her everywhere!
Everything in the student days is so simple and beautiful, even the heart of liking someone.
If you like someone, you would pay attention to him all the time. The eyes will always be on that person, and the heart would beat violently immediately after hearing that person's name.
And when you see him/her being together with the opposite sex, you feel uncomfortable again but don't want to break the ice, so it's actually a beautiful thing to pay attention in silence.
Shortcoming
In small sweet love dramas, the period of secret love between the hero and heroine is the most beautiful time. At this time, even if they have inadvertent physical contact or even a little flirtatious gesture, the viewers in front of the screen will cheer and say, "That's sweet".
The TV series A River Runs Through It uses an "I like him, but you secretly like me" approach to storytelling.
Xia Xiaoju has been in a close relationship with the well-behaved student Cheng Lang since she moved to a new home. The reason for her behavior is that Cheng Lang will give her extra lessons as a top student, and on the other hand, Lu Shiyi always has a vicious tongue, and such behavior pushes the heroine away invisibly.
The story has progressed to the second half, and the love bridge between the hero and heroine has not yet been revealed. Not only does the romance rely solely on the narrative not feeling immersive, but it also makes the story seem raw and dragged out.
Of course, there are those who say that this story is supposed to be about a crush, not a normal sweet drama. The plot of the heroine's crush on the second male lead is indeed a bit long, but it also perfectly conveys the beauty of crushes in youth.
The overly dramatic and illogical plot settings are a constant challenge to the viewer's nerves.
For example, why does the heroine walk around the campus without a lid on her cup of hot water, and the hero gets hit in the ass over and over again, but it's as if nothing happened.
Set in Jiangzhou City in 1997, the drama is much less contemporary in the scene construction and the dressing of the characters.
An extremely tangled food chain-like emotional line - you love me, I love him, he loves her...
A River Runs Through It Ending
The hero and heroine were hurt all the way through, with sugar in the glass crumbs. It ends before you can even watch them fall in love properly.
Lu Shiyi and Xia Xiaoju Ending
Xia Xiaoju agrees to Lu Shiyi's marriage proposal in the finale.
In episode 36 of the finale, Qiu Letao and Bao Xiangxiang's wedding came on the stage of throwing the bouquet, and Xia Xiaoju was lucky to receive it. Lu Shiy seemed to be prepared for this, and he proposed to Xia Xiaoju.
Qiu Letao pushed Xia Xiaoju over, and Lu Shiyi expressed his feelings. Xia Xiaoju was very happy and moved, and agreed to him.
Xia Xiaoju and Lu Shiyi were finally together.
Bao Xiangxiang and Qiu Letao Ending
In the last episode, Bao Xiangxiang and Qiu Letao got married.
Cheng Lang and Lin You Ending
Cheng Lang did not end up with Lin You.
Cheng Lang had a smooth career, but his relationship was not perfect. Lin You married a foreigner after going abroad... still did not choose Cheng Lang.
In the last episode, Cheng Lang saw Lin You on the side of the road, he was very excited, and just wanted to go to her, but suddenly a foreign man came over and kissed Lin You on the forehead.
Cheng Lang stopped in his tracks, knowing that Lin You was getting married and that it was time for him to let go.
Looking at the backs of Lin You and someone else, he seemed to be relieved.
A River Runs Through It Quote
The one I like never seems to look back at me.
For the looks you have, you're broken equal to a facelift.
I'm not laughing at you, I'm just ...... just love you.
In the future, we two have nothing to talk about except love.
At Last
Youth school dramas give people the feeling that they are naive, campy, and unrealistic, but A River Runs Through It has brought people closer. It is funny and "grounded", and doesn't have the halo of protagonist set-up of previous school dramas. It brings out the simple, pure, and youthful feelings of student days, and evokes the audience's memories.