Begin Again, as the name suggests, it tells the love story of a man and a woman who get married by contract and fall in love after the marriage.
What is more counter-intuitive is that the drama is no longer about a domineering male protagonist and a silly sweet female protagonist, but a female A and male O setting. The female protagonist is a domineering president, and the male protagonist is a gentle but somewhat inept surgeon.
This old-fashioned yet fresh contrast gives a new sense of visual experience.
High sugar sweet story
As a female president, Lu Fangning is beautiful, smart and quick-witted. Due to her father's "marriage urging", and for the sake of further work, she agrees to get married as a replacement condition.
Lu Fangning encounters Ling Rui, a handsome male doctor, in the hospital. The handsome and caring Ling Rui immediately attracts Lu Fangning's attention.
So Lu Fangning starts the mode of "arduous husband chasing". Flowers, chance encounters, creating "debts", driving away various "enemies" pursuing Dr. Ling, etc. , all kinds of behaviors really make people laugh.
Ling Rui initially refuse.
By chance, Ling Rui sees a picture of Lu Fangning as a child in her home and realizes that she is the little girl he is looking for. So he agrees to this comical engagement. And so the two people who have known each other for five days got married.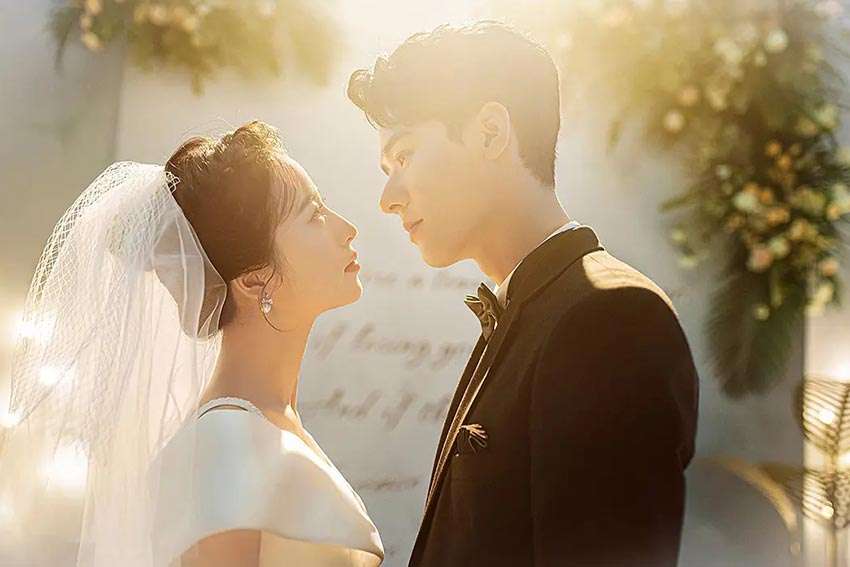 Married life is sweet and funny.
Time and time again, mutual testing, mutual understanding, the two people's feelings are gradually heating up.
This little sweetness between Lu Fangning and Ling Rui, who first married and then loved each other, has touched many people's heartstrings.
Ling Rui thinks that he could make Lu Fangning fall in love with himsefl by virtue of her handsome appearance, but learns that the reason why she marries him is to have a child, while going to experience the happy life in the mouth of the company director.
However, this is the biggest hurt for Ling Rui. The person he loves has other purposes with him.
Although Lu Fangning is a strong woman in her career, she is an emotional idiot in love. She does not know that she has long been attracted to Ling Rui.
As supporting characters who promote the storyline, Lu Yiyao and Cai Siyu, and the "villain" Gao Erfan, are not reduced to a complete "tool". Their interaction also contribute a lot of wonderful sweet plots to this drama.
Acting of the male and female leads
This drama is the work of Gong Jun, who plays the male lead, before he becomes a "top star" with Word of Honor. It can be said that from this drama, we can also see his explosive potential.
From the reunion after a long absence, the first time he pretends to be a fierce alienation and provocation with the heroine, to the firmness with a broken feeling when he learns that his ex-wife is going to leave with his son, he asks for reconciliation.
In the two dramas, Gong Jun plays the role of a man being petulant, all with a sense of proportion, not flowing into the lower level of greasy showmanship.
The heroine Zhou Yutong is also no stranger to the character setting of domineering president. Zhao Jian, who played in the early Chinese drama Young Blood, is a brave, resourceful, independent and intelligent county princess. With excellent working ability and firm self, she is simply the ancient version of Lu Fangning.
Such a powerful combination of the two protagonists also makes the drama more interesting.
Begin Again Happy Ending
Lu Fangning's persistent nightmare for years slowly disintegrates, and finally makes a reconciliation with her past self.
Lu Fangning looks for Ling Rui all the way to the garden, but finds a photo that Ling Rui has arranged long ago with fond memories of the two of them. In the box at the end, there are childhood photos of Lu Fangning and Ling Rui in the playground, and Lu Fangning's receiving one love letter after another prepared by Ling Rui.
This "rustic" ceremony is particularly beautiful at this moment.
Ling Rui goes down on one knee and formally proposes to Lu Fangning. Lu Fangning nods affirmatively and takes out the two's wedding ring six years ago from her pocket. The two who are in the same mind put on two rings and hug each other happily.
Ling Rui and Lu Fangning's love finally comes to fruition.
Lu Yiyao proposes to Cai Siyu by "going crazy" with wine. Looking at Lu Yiyao's cute face, Cai Siyu accepts his marriage proposal.
Gao Erfan also lets go of his obsession and transfers his shares to Lu Yiyao.
All storms have passed. Lu Fangning and Ling Rui finally returns to a peaceful life. Everyone has a new beginning and everything is still going well.